Something Like This May Happen To You After Reading Luck Laws...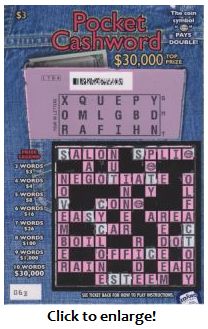 "I had to go to the gas station the other day. &nbsp I always go to the same one because it's right down the street, but today they made me wait at the register until I got annoyed and left. &nbsp While I was at the register I noticed these
"Pocket Cashword"
tickets. &nbsp Went to another gas station less than 5 minutes away and bought one Cashword ticket for $3 - I won $100 from the Idaho Lottery.
Here's a scan of the ticket. &nbsp I don't know what the deal is with your lessons, but if this is the sort of result I can expect all I can say is THANK YOU!"
Michael from Meridian, Idaho
---
"I just wanted to send this email to you because for the last three to four weeks I've been reading the Luck Laws and every time That I've read them I would go play The scratch off (2500 Dollars a Week for life) card and Surprisingly
I've won 100 to 150 dollars each time.
&nbsp Eventually I will win the 2500 a week for life but until then thanks for all of the knowledge about luck... Keep it coming!!!!!"
Raymond Bouye from Chicago, Illinois
---
You Are About To Discover...
How the Universe itself is run on chance
Secrets of the ancient Roman luck-cult... FORTUNA
Why some scientists misunderstand luck
How entire empires have been built on luck
American History: Largely a Luck-Story
and much, much more...

"I look forward to sharing my good fortune with you!"

Jack Ellis

---

Sign up now

to receive your 12 lessons on "

Luck Laws

" - you'll receive the first lesson

immediately

after confirming your address... and don't worry, I won't sell your email or send any creepy 'enlargement ads!'

---

Links of Luck Laws

---